NCcareers.org is your one-stop shop for career exploration and are here for you during the pandemic and economic downturn. We hope that NCcareers.org can be a resource to help you make information decisions about your career and the opportunities.  

Remember: Governor Roy Cooper  is asking people to remember these three things as we stay strong and continue to flatten the curve and slow the spread of COVID-19.

If you leave home, practice your Ws: Wear, Wait, Wash
•    Wear a cloth face covering if you will be with other people 
•    Wait 6 feet apart. Avoid close contact.
•    Wash your hands often with soap and water for at least 20 seconds or use hand sanitizer.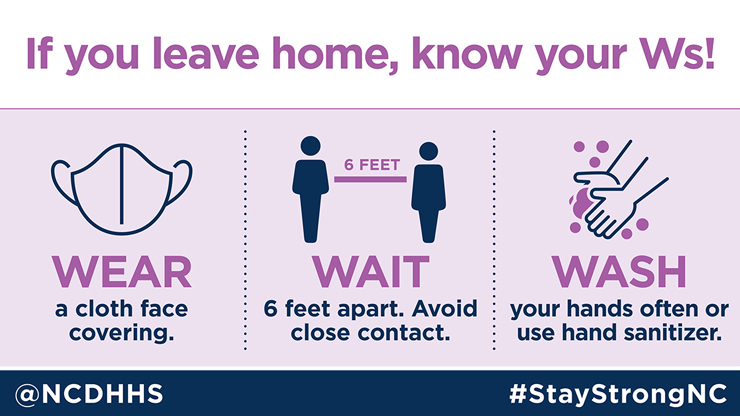 These actions can protect our families and neighbors as the state takes a cautious step forward to ease restrictions while the virus is still circulating.

All North Carolinians are encouraged to share this message in their businesses and through their organizations to protect our families and neighbors as the state takes a cautious step forward while the virus is still circulating.

Inform yourself about a safe working environment and look for one that has the following features:
An Infectious Disease Preparedness and Response Plan that helps guide protective actions against COVID-19
Basic Infection Prevention Measures such as promoting frequent handwashing, encouraging workers to stay home if they are sick, routine cleaning of surfaces, etc. 
Policies and Procedures for Prompt Identification and Isolation of sick people such as flyers and notifications to make employees aware of the signs and symptoms of COVID-19 and policies and procedures for reporting to employers when they are sick.
Take steps to limit the spread of COVID-19 such as providing face masks and hand sanitizer, limits on the number of people who can be in a room together, etc.
Develop, Implement and Communicate about Workplace Flexibilities and Protections such as making leave policies flexible and consistent with public health guidelines, working with any temporary employment agencies you work with an ensure that the company's policies will be enforced with any individuals they send to your workplace, working with insurance companies to provide information about medical care in the event of a COVID-19 outbreak, etc.