1 / 3

2 / 3

3 / 3

GREAT JOBS AND HIGHER EARNING
POTENTIAL START WITH CTE.
Most students graduate thinking they can either enter the workforce, or take on debt to attend a two- or four-year degree program. What many students and parents don't realize is that it may actually pay to explore your options in CTE. For Anna, her pre-apprenticeship program has done just that.
Anna Serrano graduated from Starmount High School in 2021 as a Certified Nurses Assistant. As a CTE concentrator in the health sciences field, she had the opportunity to complete a paid pre-apprenticeship nursing program with Northern Regional Hospital while in high school. Upon graduation, Anna was offered a full internship and paid-for education at Surry Community College, where will graduate as a Registered Nurse (RN). Plus, when she completes her associates degree, Northern Regional has guaranteed employment for her as an RN.
"CTE really guided me in my career path, and thanks to the pre-apprenticeship program and my experience working in the hospital I just feel like I'm really ahead of the curve when compared to a lot of my peers," she says, adding that it was her health science courses that kept her excited about high school.
Things really started to take shape for Anna during her sophomore year with the help and support of her teachers and guidance counselors. It was at this point she realized there are a lot of opportunities through CTE that become more difficult to take advantage of after graduation.
"As long as I'm in school, they'll cover my expenses," she says, acknowledging that CTE has opened a lot of doors and allowed her to gain both experience in the workforce and continued education in a career field that has high demand and strong growth in the future.
For Anna, she knew she wanted to be in the healthcare field and CTE has accelerated her success with a cost-effective and innovative program that gets her the first-hand experience she was looking for.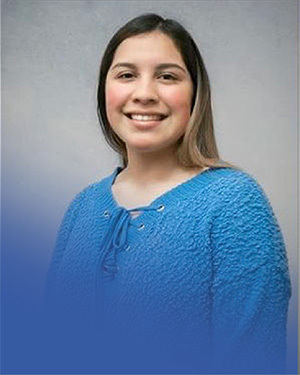 Anna Serrano
Currently Studying at Surry Community College