1 / 3

2 / 3

3 / 3

GREAT JOBS AND HIGHER EARNING
POTENTIAL START WITH CTE.
Eli Sommer is a class of 2021 graduate, and is currently studying Entrepreneurship, Finance and Sales at High Point University. He's a business owner, presidential scholarship recipient, and working on his real estate license – all at the age of 19. His Secret? CTE.
We caught up with the Cox Mill graduate to talk about his experience post-graduation, and how CTE has shaped the ambitious young leader's pursuits after high school. What he had to say may surprise you.
From a very early age, Eli says he knew he wanted to work for himself and pursue an unconventional career – something that would allow him to succeed both professionally and financially. "I started pitching business ideas as early as middle school," he says. "I just knew that I wanted to do something different, something for myself."
Things really started to fall into place when he entered high school, and was introduced to the business and marketing courses – as well as DECA – thanks to some friendly pressure from upperclassmen.
"A few juniors and seniors suggested I get involved with DECA the first week of my freshman year," says Sommer. "As a young high schooler, when an upperclassman encourages you to check out a program, you listen."
And he's glad he did, because by the time he graduated he was president of the Cox Mill DECA chapter, and he even ran for state DECA Vice President - an experience that helped him grow as a leader.
"Running for state VP was a ton of work, and not winning was a real challenge for me," says Eli, who was also the high school student body president while at CMHS. "It made me realize that what I do and say really matters, and highlighted the importance of leading with compassion and grace."
But no journey is without its challenges, and Eli says his experience in CTE is what really made the difference for him – then and now.
"CTE gave me the confidence to tackle challenges and put myself in educational and professional situations where I'm uncomfortable and forced me to grow," he says. "It gave me the ability to articulate ideas, communicate, and collaborate with my peers, and more importantly, with leaders in the business community."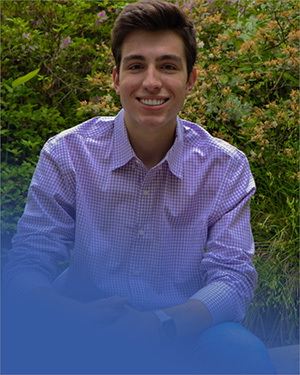 Eli Sommer
Currently Attending High Point University