1 / 3

2 / 3

3 / 3

GREAT JOBS AND HIGHER EARNING
POTENTIAL START WITH CTE.
Elizabeth is a student at North Carolina State University, where she's majoring in Agricultural Education and helping students across the state discover opportunities in Ag. CTE helped shape her education, and it gave her the spark to pursue a career she's passionate about.
"People forget high school is hard," says Elizabeth. The North Lenoir High School graduate recalls her introduction to CTE classes, beginning with health sciences. After exploring a few different courses, she started to feel at home in Ag. "After I discovered my interest in agriculture, my CTE courses were my motivation to go to school – it made school more interesting and enjoyable for me."
The college sophomore and current North Carolina Future Farmers of America (FFA) president is a leader among her peers, and a seasoned public speaker – winning first place in prepared public speaking at a statewide FFA competition earlier this year. Not only is she active in FFA, she also represents her university state-wide as a Teach Ag Ambassador and Agriculture and Extension Education Club Officer for the university, traveling across all 100 counties to deliver workshops to students currently enrolled in North Carolina Public Schools.
But without CTE, she says, she wouldn't have the skills and confidence to present to thousands of students, educators, and business leaders each year. "My experience in CTE gave me a lot of soft skills and better prepared me for the real world – all before I graduated from high school," says Espino. "I was one of the top ten students in my graduating class, but the only CTE concentrator, and I feel like that gave me a real edge on my peers."
When asked what advice she would give students who are just beginning their high school career, she encouraged them to take advantage of the resources available, and see what you enjoy learning about.
"Take a few different classes, see what you like, and explore the opportunities that only CTE can offer."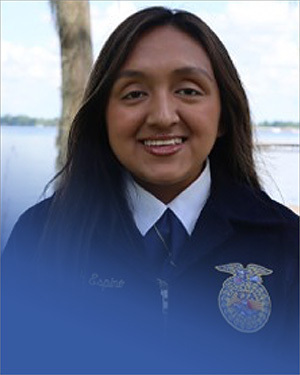 Elizabeth Espino
Currently Attending North Carolina State University