1 / 3

2 / 3

3 / 3

GREAT JOBS AND HIGHER EARNING
POTENTIAL START WITH CTE.
Ray Lisenby has a future in agriculture. The Topsail High School graduate and freshman at North Carolina State University says it all started with great teachers and the support of student-led organizations.
"Before FFA, I lacked direction – I didn't have a clear idea of what I wanted to do after I graduated," says Lisenby, a first year student at NC State studying Agricultural Business Management. "I started getting involved with Ag my sophomore year of high school, and it was really Mr. Hicks who changed everything for me."
Ray remembers that it was the extracurricular aspects of CTE that drew him in – the opportunities for site visits, outdoor activities and Career Development Events or CDE's. It was the more unconventional, hands-on learning experiences that made agriculture interesting to him. Now, he's involved with Future Farmers of America (FFA) as an NCFFA State Officer for the organization, similar to his friend and classmate Elizabeth Espino [LINK].
But Ray wants to focus on the more practical side of agriculture – he wants to be a farmer. Specifically, he wants to be a North Carolina farmer, someday leading his own produce operation or Koi Fish aquafarm.
"I'd like to start working for a large growing operation when I graduate, but ultimately I see myself as owning my own farm," he says, adding that the inspiration to be a farmer started with CTE. "My experience as a leader in FFA has helped guide me to a career I'm passionate about."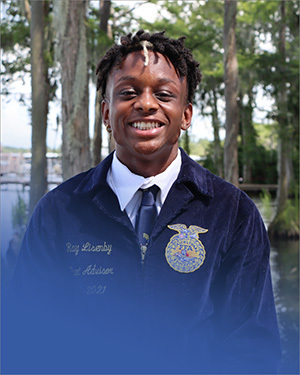 Ray Lisenby
Currently Attending North Carolina State University