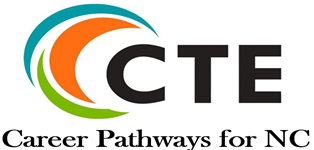 February is national Career and Technical Education (CTE) Month, let's celebrate it together!  During February, the CTE community celebrates CTE Month® to raise awareness of the role that CTE has in preparing students for careers and college. It is also a time to recognize and celebrate the CTE community members' achievements and accomplishments nationwide. Led by a variety of CTE groups and spearheaded by the Association for Career and Technical Education (ACTE), the month is organized around a different theme each year.

Want to learn More about CTE?  NC Department of Public instruction has even more information about CTE efforts offered throughout the State as well as the new CTE Course Management System where you can learn the pathways, courses, and industry recognized credentials available in NC public schools.  NC Community Colleges also offers CTE programs through their network of 58 community colleges throughout the state.  

You can also visit the What is CTE? and Why Should I see my Career Development Coordinator(CDC)? pages on NCcareers.org.